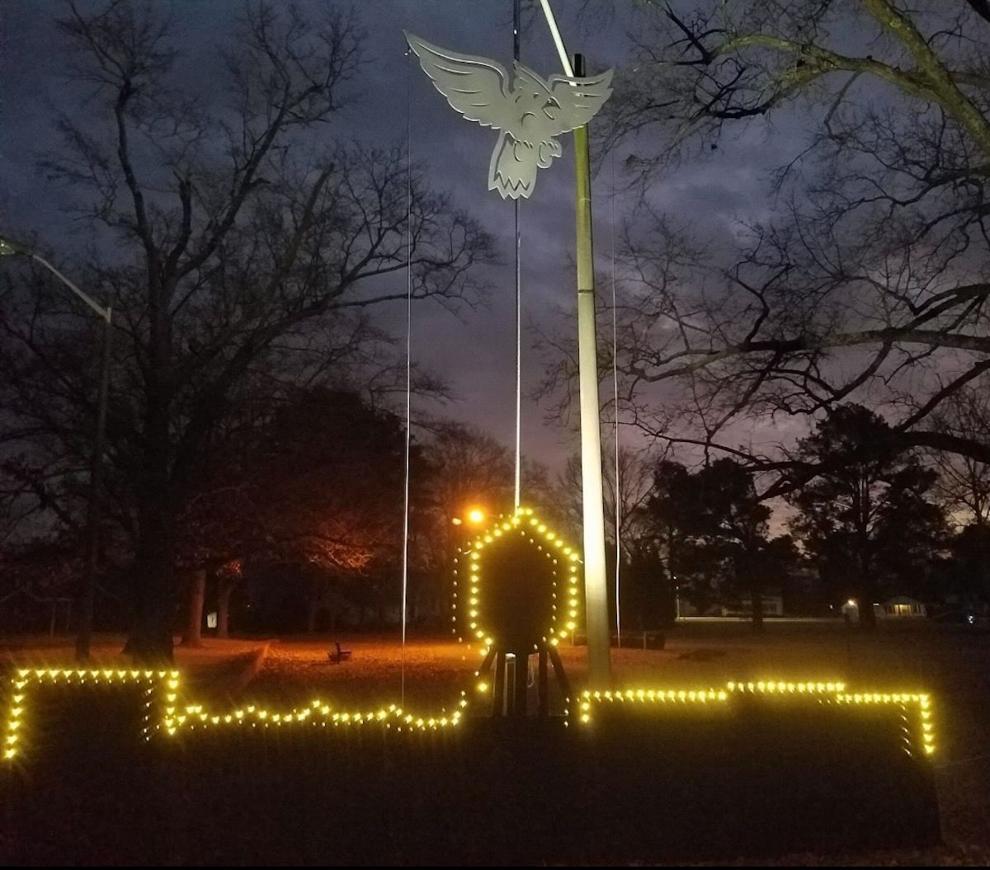 PIKEVILLE — A giant 6-foot cardinal will glide into a facade representing Pikeville's downtown area Friday night to help the town usher in 2022.
The inaugural Cardinal Drop, sponsored by the Greater Pikeville Improvement Committee, will be held from 7 to 10 p.m. at Dees Memorial Park, 403 Northwest Railroad St.
"It is going to be our New Year celebration similar to how Mount Olive does the Pickle Drop," said Rodney Jarman, Greater Pikeville Improvement Committee member. "It will be right there in the park, and we'll have plenty of room.
"We are excited about it."
Tommy Evans will perform, and food trucks will be at the park.
The event is free other than what participants purchase at the food trucks, Jarman said. He recommends people bring cash.
Food will be available at local restaurants, too, he said.
"We (committee) came together a few years back, and we have been slowly, but surely, trying to bring events back to town trying to make it community-focused," Jarman said. "We brought the fireworks back this year for the Fourth of July.
"We did the Halloween event with a trunk or treat. We run the movies in the park during the fall. We did the Christmas parade, and then we did the tree lighting. So this is kind of our wrap-up, our last event for the year, before we take a little bit of a break ourselves."
The decision to hold the drop at 10 p.m. instead of 7 p.m. (midnight Greenwich Mean Time) or midnight was a nod to the Mount Olive Pickle Drop at 7 p.m. Friday and to provide options for people to ring in the new year at midnight, Joyner said.
"We wanted to stagger it because we felt like the Pickle Drop has been established and people go there," he said. "We wanted to give people time to still participate in that and then still have time to come up here to Pikeville to participate in what we have got going on and then still be able to do what they wanted to do for their New Year's plans at midnight.
"We just figured this would be the best way to open it up for all of Wayne County, not just the Pikeville community but all of Wayne County. So, we picked that as a kind of a neutral time."
The cardinal always has kind of been the town's insignia, Jarman said.
It was adopted some time back, and the committee just kind of ran with it, he said. It is part of the committee's logo, and the teams under the committee's athletics subcommittee are the Cardinals.
"We wanted something that Pikeville has and build around that," Jarman said. "Why reinvent the wheel? So let's do the Cardinal Drop. We do plan on in the future, we are starting the planning stages, to have a Cardinal Festival, which will be Pikeville's first town festival, kind of like Fremont has the Daffodil Festival and Mount Olive has the Pickle Festival.
"That is going to be Pikeville's festival coming here in the future. We will start it off as a one-day festival, and as it grows, it may turn into a two- or three-day event."
The committee designed the cardinal that also went through a design phase with Benton and Sons Fabrication that built the 4-foot by 6-foot bird.
It is similar to a die-cast cutout, Jarman said.
The cardinal will glide down into an 8-foot-tall and 20-foot-long facade of downtown Pikeville during a countdown, he said.
Friday's weather forecast is favorable with mild temperatures expected in the 60s.
"The last forecast I saw is looking like we are pretty good with the temperature fairly mild," Jarman said. "I don't think they are calling for rain or anything."
Planning for the event started this past January, Jarman said.
The committee itself oversees six or seven different events throughout the year. There are several subcommittees, too.
"We have a beautification subcommittee," he said. "Their primary focus is to find areas of the town to beautify. The athletic committee has been been putting on sports throughout the year.
"We have an events committee, and their sole purpose is to try to plan these events and put them on, and then you've got that board of directors, so we meet about five times a month in one meeting or another."
There is a historical committee as well, he said.
The committee has about 30 members but is always looking for new members and volunteers, Jarman said.
"We're going to do a big kind of volunteer advertising push after the first of the year — really get more hands on board — anything from anybody who wants to help trim bushes to help coach a soccer team, to sit as the secretary on the board of directors," he said.
"Anybody who's interested in any of those things that may even fall remotely close, give us a call, and we will lead, guide and direct you and get you where you need to be."
For more information, call Jarman at 252-286-9579.