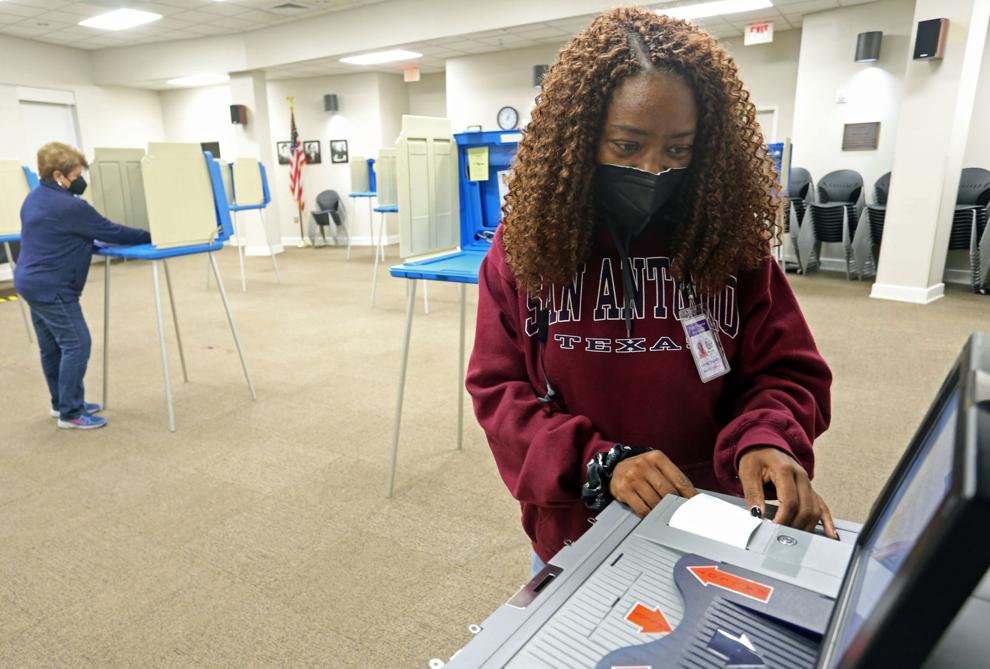 As of Thursday evening, only 0.33% of the 32,051 people who are eligible to vote in Tuesday's nonpartisan municipal and sanitary district elections had done so.
That includes 130 who have voted at the county's single one-stop early voting site at the Wayne County Public Library, 1001 E. Ash St., and three absentee-by-mail ballots.
"I've been here since 2014, and this is the slowest I've ever seen," Anne Risku, Wayne County elections director, said Thursday afternoon. "It might increase in the next two days, but even if it doubles, we're still far below (past turnouts)."
The 13 days of one-stop voting began Oct. 24 and will end at 3 p.m. Saturday. Up until that time, people can do same-day registration and vote.
Polls will be open from 6:30 a.m. to 7:30 p.m. Tuesday in 19 of the county's 28 precincts that have elections.
The elections to be decided Tuesday are:
• Belfast-Patetown Sanitary District Board, vote for two: Drew Hill; Fred J. Newcomb; Ray Sullivan; Arrington Anderson; Ben Casey.
• Fork Sanitary District Board, vote for three: Tim Gardner; Andy G. Hartley; Danny Franklin Hope; Henry Braswell.
• Eastern Wayne Sanitary District Board, vote for five: Brandon Gray; Allen Jones; James Allen Sutton Jr.; Ervin Watts; Daryl Anderson; Richard (Ricky) Carraway.
• Southern Wayne Sanitary District Board, vote for two: Matthew McLamb; Gary Scott; Justin Michael Williams; Sally Rawls Bowles.
• Southern Wayne Sanitary District Board, unexpired term ending in 2023, vote for one: Tommy Baker.
• Southeastern Wayne Sanitary District Board, vote for five: Charlie M.B. Holloway; Jesse Jernigan; Debony T. Jones; Bobby Outlaw; Phil Shivar; James Taylor.
• Walnut Creek Councilman, vote for two: Mike Daly; John Seegars.
• Pikeville Mayor: Garrett Johnston. Commissioner, vote for two: Nick Katsenios; David (Matt) Thomas.
• Seven Springs Mayor: Stephen Ray Potter. Commissioner, vote for two: Ronda Hughes; John H. Lee.
Sanitary district board members serve four-year terms. The mayor of Pikeville and the Pikeville town commissioners serve four-year terms. The mayor of Seven Springs serves a two-year term. Town board members in Seven Springs and Walnut Creek serve four-year terms.
The lack of municipal elections in Mount Olive and Eureka could being playing some part in the low turnout, Risku said.
Mount Olive's election was delayed to determine whether changes in its population warranted redistricting.
The town's population actually declined by a few hundred, so the town is not going to redistrict.
"It was certified that they didn't need to redistrict," Risku said. "That means that their candidates will file during the regular candidate filing period Dec. 6 through the 17th.
"They are going to be on the March primary. So, we're going to have the partisan primary for all the different contests. So, people in Mount Olive will have a pretty big ballot in March."
Also missing from the ballot are offices in Eureka. There is no election in that small northeastern Wayne County town because its charter was suspended by the state in 2019.
Elections will not return there until its charter is reinstated, Risku said.
"After last year's record turnout I expected a little bit more, but it is what it is," she said. "I think not one voter from the town of Seven Springs has voted (as of Thursday afternoon).
"I think we've had one or two from Pikeville and two or three from Walnut Creek that have voted early."
Most of the early votes by Thursday were for the sanitary districts, Risku said. But even there there's not much of a contest in any of those elections since for the most part there are just enough candidates for the number of available seats, she said.
The same is true in the Pikeville, Seven Springs and Walnut Creek municipal elections, she said.
"But we're here. We are ready for 100% (turnout) which would only be 32,051 people who are eligible," Risku said. "We'll see what Election Day brings but … I am surprised (the turnout) is so low after last year, after all the interest. I would have thought it would (have) piqued people's interest, kept them motivated."
Ballots have spaces for write-ins, and it is not unusual for write-in votes to decide elections in the county's smaller municipalities, Risku said.
"We will do write-ins (tally) within a few days of the election," Risku said. "You'll see a write-in total, just not names corresponding to the write-ins (on election night totals)."
Unofficial totals will be available Tuesday night on the Wayne County Board of Elections website, waynegov.com/783/Board-of-Elections. Sample ballots are located online, too.
"We have an earlier canvass for municipals so we have canvass on the 9th, the following Tuesday," Risku said. "We only have seven days to canvass this election, but I'm pretty sure we will be OK.
"We should have absentee-by-mail and early voting results right at 7:30 (Tuesday night). We've only had three absentee ballots returned for the entire election. So it's just really slow, but we're here. We prepare for 100% turnout."
Voters are not required to show a voter photo ID for Tuesday's election.
"We have the same COVID protocols that we had last year," Risku said. "Voters don't have to wear a mask, officials do. We're still doing social distancing. We're still doing limited booths so you have to keep 6 foot in distance."
During a Thursday training session for precinct officials, Risku reminded precinct officials that the public sometimes comes in and wants to ask a lot of different questions such as redistricting or different things that have nothing to do with the voting process.
"So that's part of my training today," she said. "It's hot topics that we are always somehow being asked."